(The Scala Org aims to release Scala 3 by the end of fall 2020. We are about 15 employees (some of whom work part-time), spread in 4 organisations (+ active community members), focusing on finalising 52 essential projects in 6 months. Project leads publish the road-maps under the category "Scala 3 release projects" to share with you what is to be expected and hopefully get your advice & contributions as well. All the projects' road-maps come after an extensive feedback gathering, rounds of discussion, and involvement of major stakeholders, we now need the community to help push this effort over the line. Your collaboration is highly appreciated, thank you in advance!)
Porting Ammonite to Dotty
At LAMP, we are coordinating efforts to port the Ammonite Scala REPL and related libraries to Dotty.
Ammonite is a tool widely used by Scala developers across all ecosystems and sub-communities, and offers an excellent interactive experience for both newbies and experienced developers.

Ammonite's suite of dependencies and related libraries also provides a self-contained platform for writing simple Scala applications that we hope will help people immediately start doing useful work using Scala 3

Ammonite's related libraries exercise the Scala language in a bunch of interesting ways: implicit constructors, typeclasses, macros for typeclass derivation, for tree-transformation, and for inlining and performance. This will help provide a diverse and realistic set of use cases to exercise the Scala 3 language and compiler.
The following libraries are to be ported: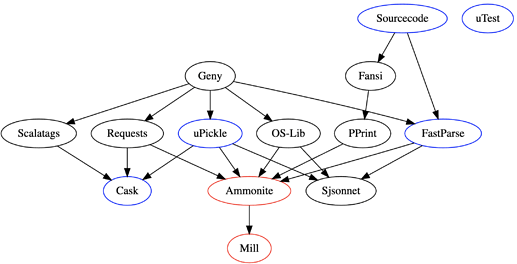 Legend:
A -> B means "B depends on A"

Blue circle means that a library contains macros

Red circle – that the library contains compiler plugins
Current status
Libraries
The following libraries are ported & merged to upstream:
utest

Sourcecode

Fansi

PPrint
You can already use the above libraries in your Dotty projects – they are available on Maven for Dotty 0.26.0-RC1.
The following libraries are included in the Dotty community build but are not yet merged upstream:
Geny

oslib

Requests (not yet in CB but PR submitted to upstream)
The following libraries are being ported:
Team
We are a team of 5 active porters:
Anatolii Kmetiuk

Yilin Wei

Jacob Odersky

Manohar Jonnalagedda

Lars Hupel
Roadmap
Merge Fansi & PPrint into upstream in early August – done by Yilin

Merge Geny, Scalatags, uPickle, Requests, Cask into upstream by October – done by Jacob and Manohar

Get rudimentary port of Ammonite done by October – done by Anatolii

Ammonite technical debt cleanup – by December. So far it is unclear what will be needed for this step, but most probably some technical debt & non-implemented features will be generated by the previous step.

Mill – by December. This deadline is a preliminary estimate – it is not yet clear what the underwater stones there are. Done by Anatolii.

In parallel with the above effort, we are developing & maintaining tooling to manage the ecosystem we port. This is the Dotty Ecosystem project which aims to manage the moving parts of the porting effort. This is an internal effort, however, may be interesting to people who port their own libraries to Dotty.
How can I help?
Fastparse is not yet covered by anyone. If you're interested in learning more about the Dotty's metaprogramming framework, Fastparse may be a good project to undertake.

In future, we may need help with Ammonite and Mill. So far, it is not clear what needs to be done there exactly. However, it's possible that after the rudimentary port is done, the effort of quality-of-life-features implementation and tech debt cleanup will be parallelisable. So, if you want to learn more about compiler internals and compiler plugins, you may be interested in helping us out.
If you are interested in helping, get in touch with me – collaboration is always welcome!