I thought this has come up before and someone fixed it, but whatever happened the issue has come back: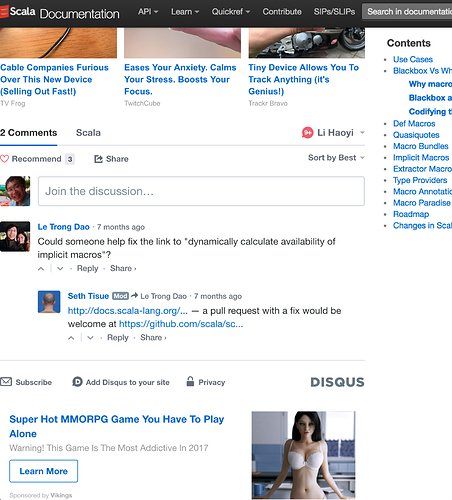 /sigh Man, I hate Disqus… This is as bad as last time. Maybe less weird though.
@travis032654 said he'd take care of this last week… @travis032654 can you please prioritize this and get rid of Disqus ASAP?
Yep, you'd be right. Though I believe @travis032654 contacted Disqus last week to let them know we're a nonprofit and to ask for removal, but he's still not heard back from them.
Cool thing is that we discovered that we can use Discourse (Scala Users) for embedded comments! (Which I think is probably a better solution anyway)
Is there a ticket or anyone assigned to look into the Discourse integration ?
Would integrating Discourse require a migration of the current comments?
IMHO would be better to implement a consistent a future proof solution that is not
binding to a 3rd party company.